Having a Google My Business account is indispensable to ensuring the success of your business in 2022. It's basically the modern yellow pages: it's how customers or prospective clients can find you, learn all the essential information about your business, and know where you're located via Google Maps.
But just having an account isn't enough: you have to make sure you're doing everything possible to get the maximum number of eyes on your listing that you can.
How can you optimize your Google Business listing to get the most out of it and drive up your business's cashflow? We're offering a short list to help you get started.
#1: Make Sure It's Up to Date
One of the top reasons listings fall to a lower position in search is that they're out of date. This will make your listing less accessible to viewers, and even if they find it, it will make it less effective once they do because the information you're providing them is inaccurate.
So first of all – is your address current? Are your hours updated? Is the name on your listing the same as the name on your sign (for example, Philly Pizza vs. Philadelphia Pizza)? Are you listing the business's primary phone number? These are all elements that have to be kept up to speed.
#2: Give a Business Description and Category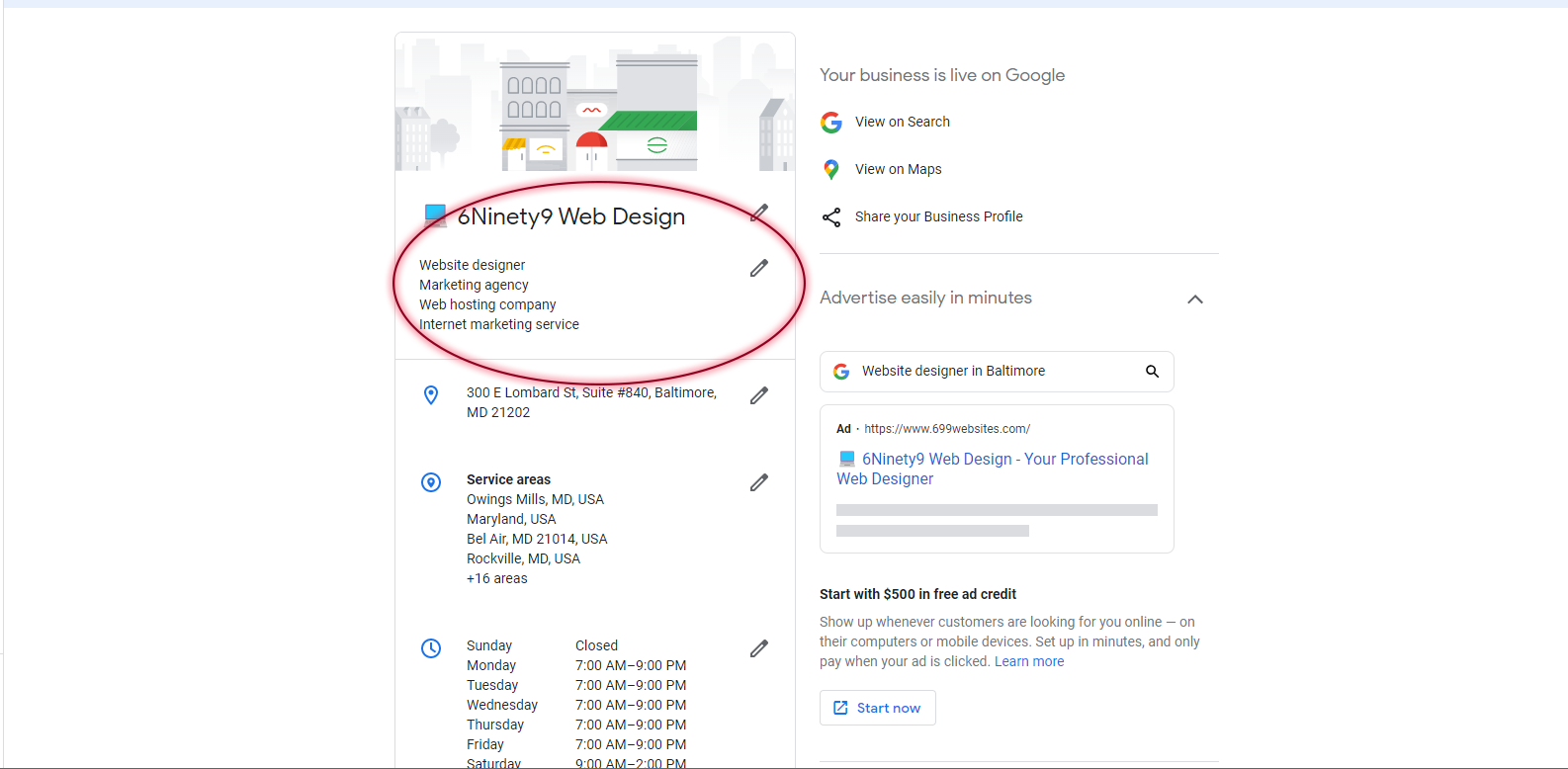 Spaces are provided right beneath the name of your business to give the type of establishment it is, and a brief description. Make sure you use these spaces to indicate what goods or services you provide, and give an enticing and rich explanation to your customers in the description section.
#3: Engage with Your Clientele
The internet is a great place for direct interaction with your client base. Google Business gives customers the opportunity to comment on and review businesses under the "reviews" tab.
Make sure you always respond to these comments. If someone gives you a great review, thank them personally! If someone gives you a critical review, don't get defensive – apologize for the customer's negative experience, explain any misunderstandings that may have occurred about how your business works or what services you're able to provide, and make a concrete commitment to give a better experience in the future.
By engaging with your patrons in this way, it shows both Google and your prospects that you're a vital and attentive business owner who is involved and dynamic. This is also a great place to include relevant keywords wherever applicable. This will ensure that your listing appears whenever these keywords are searched.
#4: Add Products and Services

Under the indicated tabs, click on "products" and/or "services," upload photos, select the category and name, and let your customers not only know what you provide, but see it themselves. More detail means your listing will attract more attention as well as be automatically ranked higher, and graphic images also greatly increase your value on search.
#5: Add Photos
Speaking of graphic images, pictures of products and services isn't the only place on your profile where this is possible. Under the "Photos" tab, you can add images under "Cover" and "Logo," then you can upload as many images of your business as you want. Make sure you include the front and interior, and pictures of the staff, if relevant, interacting with your patrons. Show your business to be vibrant and alive with activity.
#6: Use the "Special Attributes" Features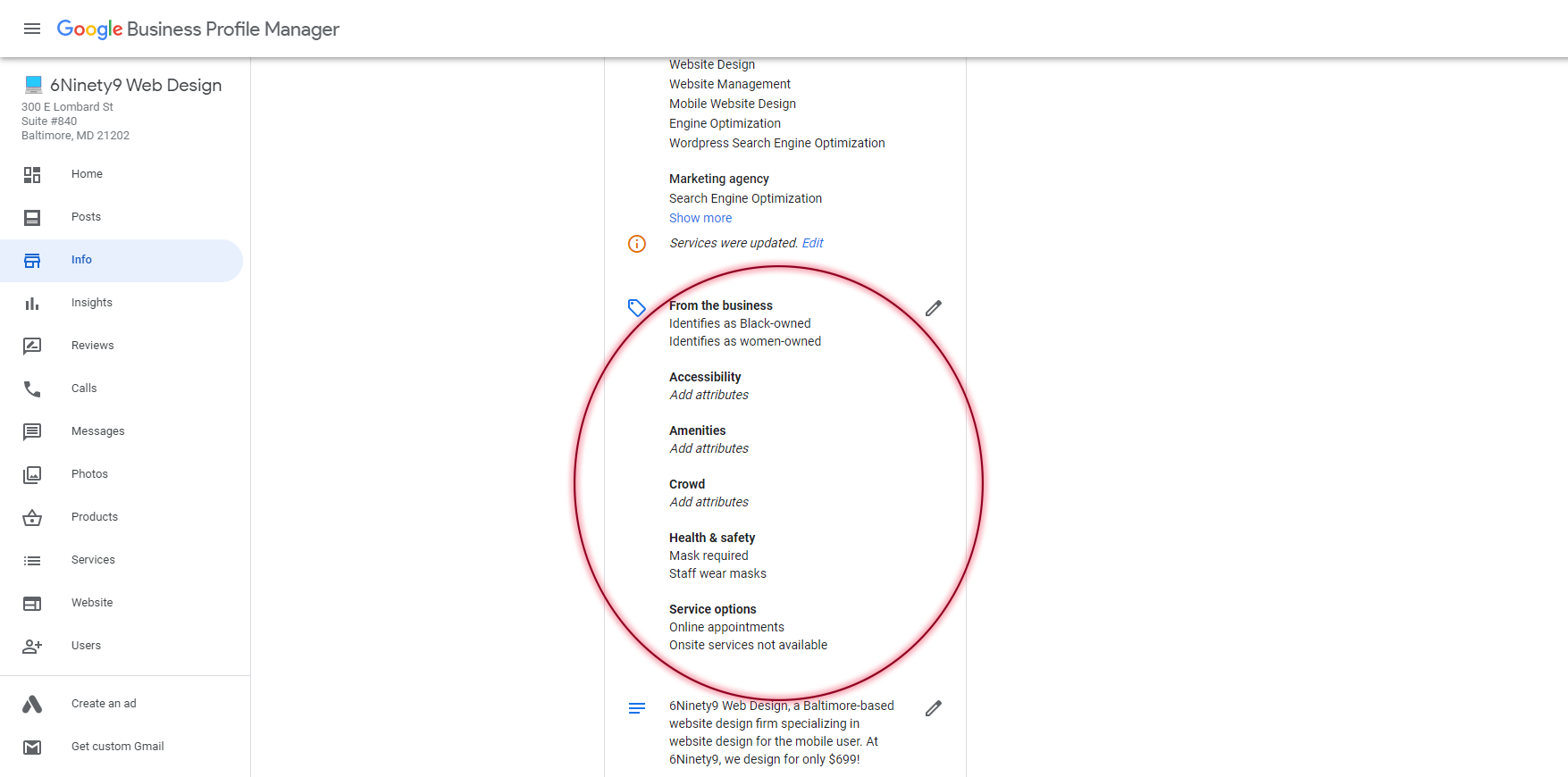 Is your business proudly Black-owned? Is it LGBTQ+ friendly? Does it provide a gender-neutral restroom? All of these are options you can choose from under the "Info" tab to let people know what makes your business special and inviting to specific demographics.
#7: Make Posts
You can give people updates about your business, share relevant information, announce special events, etc by using the feature under the "Post" tab. There you can choose between options such as "Covid-19 Update," "Offers," and "What's New," add pictures if you like, and publish. These posts never expire – just be sure you add the dates for any special offers or events.
#8: Reflect Covid-19 Safety
In the age of the pandemic, there is particular information you have to share with your patrons about how you are keeping them and your staff Covid-safe. In the "Info" tab under "Attributes," you can add such things as "Mask required," "Staff get temperature checks," and "Staff wear masks." This will put your customers' minds at ease, and the added care and attention to detail will reflect well on your Google standing.
#9: Make Sure You're Verified
If your business is verified, it's much more likely to show up on search. Maybe you skipped this step when you were setting up your profile. If you did, you can always retroactively verify by requesting a business postcard at business.google.com. Verifying your location will also improve Google's ability to link you to customers who are closest to you and searching for your services, and that will improve your score.
These are the kinds of actions you can take to make your My Business account reach its full potential, and become a source of increased traffic and revenue for your brick-and-mortar location this coming year. For more great optimization tips for your online presence, make sure to keep checking 6Ninety9's blog. We've got plenty coming your way.